Save time, keep organised with our company binder
Meet Companies House regulations by having all your documents in one place.
Save time making changes to your company structure.
Walk into the bank with your folder and open a company bank account.
---
What's included?
1x White A4 3-ring 25mm Binder with Title on Front
1x Thermal bound copy of the constitution.
Printed Companies House Certificate of Incorporation.
Company documents collated into the relevant divided tabs.
Registered post shipping with tracking number.
11 index tabs arranged as follows:

Members Minutes
Directors Minutes
Directors & Secretaries
Shares & Transfers
Seal Register
Mortgages & Charges
Other Documents
ASIC Forms
Blank Forms
Constitution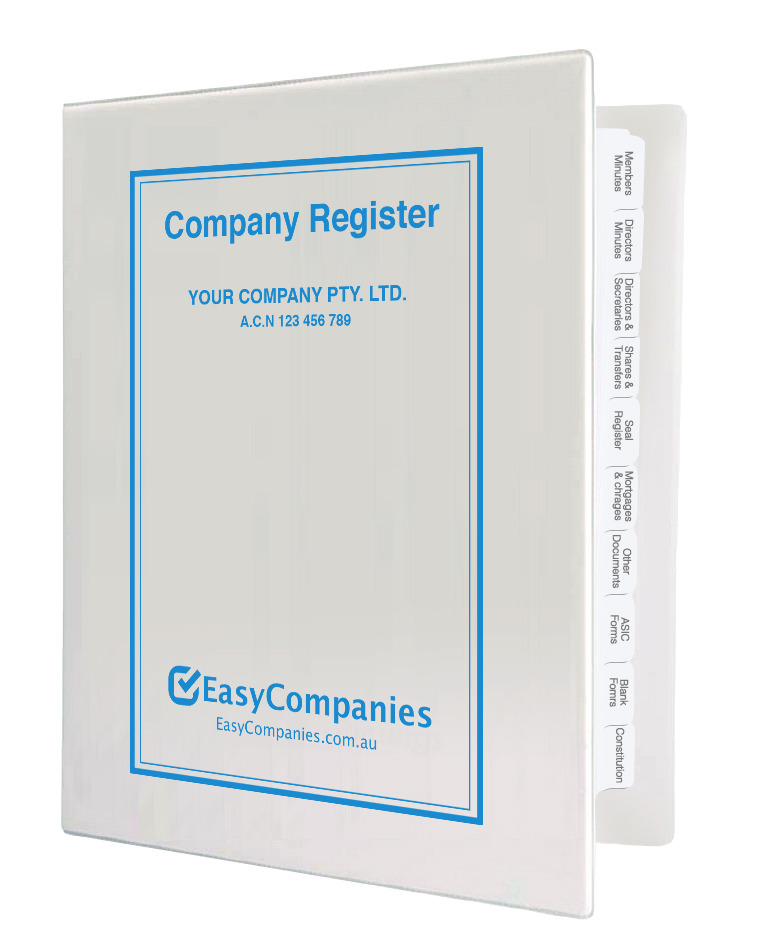 ---
How long will it take?
Once your company has been registered the documents and folder will be prepared and shipped before 11am the following business day. Once the documents have been dispatched an UK Post Tracking number will be provided via email.
---
Include a company binder with your company registration
When you reach the Payment Step (Step 7), you will be given the option to select the company binder.
---
Already registered a company with us and forgot to order a binder?
Ask one of our friendly staff on live chat or contact us for more information.
Also available with all Company Registrations: